Prayers (Pujas)
Prayers are special methods for generating positive states of mind and can be used as a preparation for successful meditation on any of the stages of the path to enlightenment.
Sadhanas, "ritual prayers for spiritual attainments," contains sets of particular prayers in verse form. A sadhana is practiced by reciting the verses and contemplating their meaning. Reciting and contemplating sadhanas over time, acts as a method for attaining the realizations of a specific Buddha or Buddhist practice.
A brief description of a few of our most popular pujas are detailed here. Check the Calendar for times. 
Prayer to Buddha/Liberating Prayer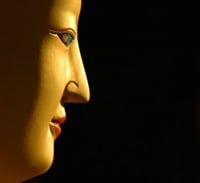 Without Buddha's kindness we would not know the real causes of happiness or the real causes of suffering.
Buddha taught us how all happiness and suffering depend upon the mind.
He showed us how to abandon those states of mind that cause suffering and cultivate those states of mind that cause happiness.
In other words, he taught us perfect methods for overcoming suffering and attaining happiness.
No one else taught us these methods. How kind Buddha is!
It is for this reason that Kadampa Buddhists begin every practice by reciting the Liberating Prayer, a special prayer to Buddha composed by Venerable Geshe Kelsang Gyatso.
Tsog Offering 
We offer food, drink, flowers, and other pleasant objects to the Buddhas during some pujas.  You may bring nice offerings that you would give to a good friend. Plan to stay after the prayers on these days and enjoy your Sangha friends with a Tsog party and share the blessings.
The Sadhanas (prayer booklets) 
All the essential practices of Kadampa Buddhism are included in a series of sadhana booklets prepared by Venerable Geshe Kelsang Gyatso and published by Tharpa Publications.